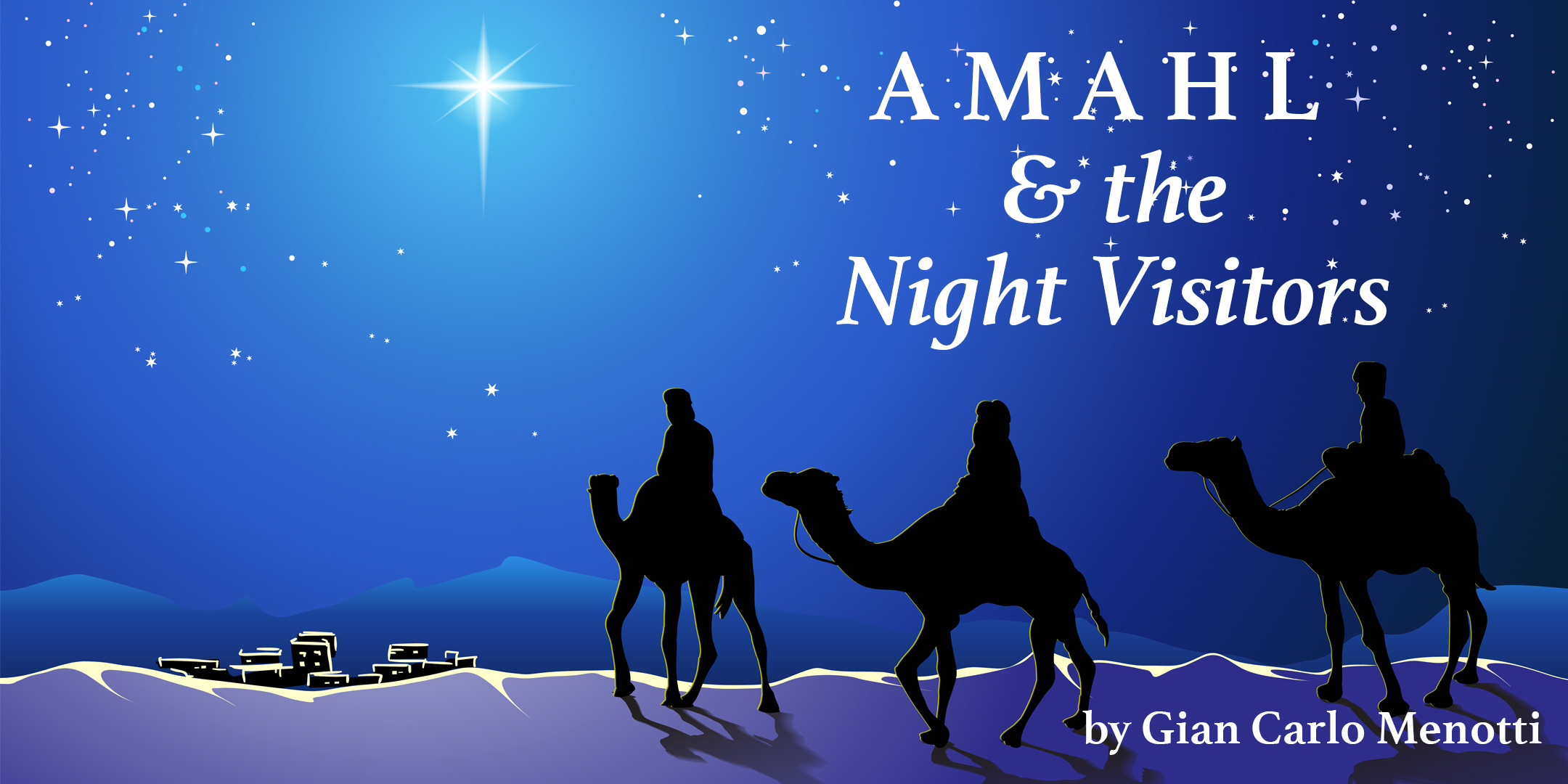 Opus Concert Theatre proudly presents Gian Carlo Menotti's Amahl & the Night Visitors. A poor widow and her young disabled son, Amahl, are on the verge of starvation, when a knock at the door reveals three kings, each bearing gifts as they follow the star in the East. When Amahl and his mother learn the purpose of their journey, lives are changed forever. Sung in English, this beautiful one-act opera will warm your heart.
Performed in English with Chamber Orchestra.
Performance Dates
1 December 2017 – Friday Evening – 7:30 pm
2 December 2017 – Saturday Matinee – 2:30 pm
                                      Saturday Evening – 7:30 pm
3 December 2017 – Sunday Matinee – 2:30 pm
$15 for Seniors, Students and Children.  $ 25 for Adults
Buy Tickets
Howard County Center For the Arts Theatre
8510 High Ridge Rd
Ellicott City MD 21043
Click here for directions to Howard County Center for the Arts Theatre
Cast:
Amahl – Lawren Palmer, Soprano
Mother – Diana Cantrelle, Dramatic Mezzo-Soprano
King Kaspar – Jim Li, Tenor
King Melchior – Elliot Matheny, Baritone
King Balthazar – Leroy Smith, Bass
Page/Choreographer – Gregory Stuart
Chorus of Villagers & Shepherds:
Sopranos:
Emily Zimmer
Valerie Smith
Elena Wenderoth, dancer, dress as boy
Juliet Rose Beach, dancer
Mattie Newgent, dancer
Altos:
Nicole Propst 
Amanda Leininger 
Anne Ballenger, and Stage Manager
Tenors:
Benjamin Walker
Jered Wenderoth, 2nd Tenor
Inge Hyder, 1st tenor
Basses:
Clark Pickett 
David Smith
Les Gesell 
Gregory Stuart
Amahl Production Team:
Director/Lighting Designer – Kevin Crysler
Director/Choreographer –  Gregory Stuart
Pianist & Maestra – Aejin Kim
Stage Manager & Props – Dr. Anne Ballenger
Costume Designer –  Valerie Smith
Ron Israel – Videographer
Dana Bius – Treasurer
Page Turner for Maestra Kim – Jeanne Zimmer 
================
**** Another Chance to See Us Perform ****
Join us 1:00 pm
Sunday, December 17th at
Germano's Piattini (small plates)
Contemporary Italian Kitchen and Bar
for another performance of
Amahl and the Night Visitors
with a Holiday Sing Along (Come sing with us)
Tickets are $20 for Seniors,Adults, Students and Children
Buy Tickets
Germano's Piattini
300 South High Street (at Fawn St.)
Baltimore, Maryland 21202
Visit Germano's Website for more info
================================================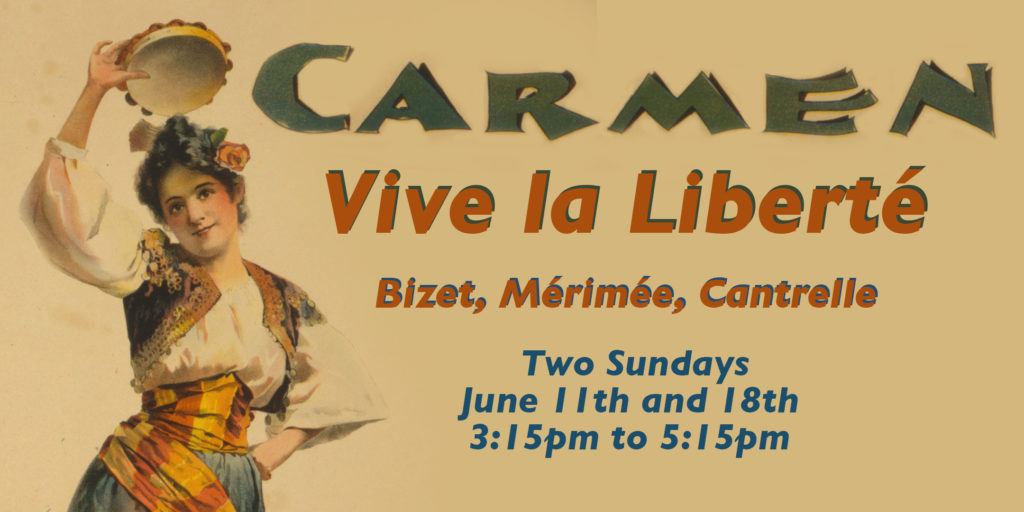 Carmen—Vive la Liberté © 2017 – Bizet, Mérimée, Cantrelle
A return to Bizet's original masterpiece as he intended with his beloved music sung in French and spoken dialogue in English. Carmen—Vive la Liberté © 2017 by Bizet, Mérimée, and Cantrelle is a new adaptation of the original opera for everyone to enjoy.
Buy your tickets to "Carmen—Vive la Liberté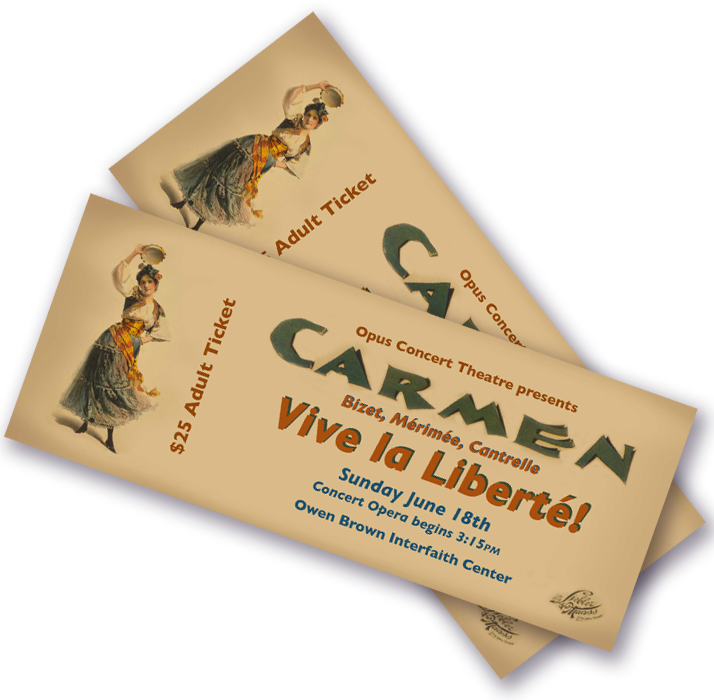 Sunday Matinees —Spoken Dialogue in English music Sung in French
Both June 11th  and 18th 2017 – 3:15 pm to 5:15 pm

Click here for Directions to:
Owen Brown Interfaith Center
7246 Cradlerock Way
Columbia MD 21045

Download a letter-sized, interactive flyer of "Carmen" here.