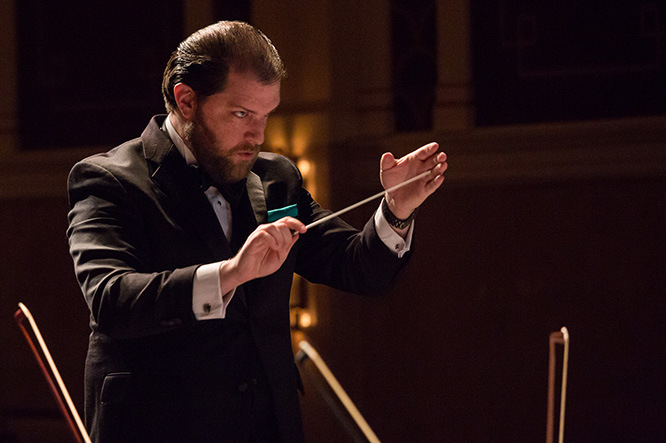 Award-winning conductor Jordan Randall Smith is the Music Director of Symphony Number One, Music Director at Hunt's Church, and Assistant Conductor of Hopkins Symphony Orchestra at Johns Hopkins University. Recently appointed Principal Conductor of Opus Concert Theatre, Smith was formerly Co-founder and Artistic Director of the Dallas Festival of Modern Music and Assistant Conductor of the Peabody Opera Theatre. Smith was lauded for being "an attentive partner" by the Baltimore Sun. His leadership of Mahler's fourth symphony was praised by the Sun's Tim Smith: "The third movement, in particular, was quite sensitively molded." Conductor Alan Gilbert called Jordan's conducting of Boulez' Le Marteau sans Maître, "impressive."
In 2016, Jordan was named a Baltimore Social Innovation Fellow for his work with Symphony Number One. He was the recipient of a Bruno Walter Fellowship at the Cabrillo Festival of Contemporary Music in 2010 where he studied with Marin Alsop, Gustav Meier, and Jennifer Higdon and conducted the festival orchestra in concert. An active supporter of new music, Jordan has a discography spanning six commercial releases and a history of commissions, leading over 50 world premieres. Jordan is also a student of early music, having formerly served as Apprentice Conductor of the Dallas Bach Society Orchestra and Chorus.
Smith has mentored hundreds of young musicians in ensembles across the country including the Baltimore Symphony Youth Orchestra and the Cross Timbers Youth Orchestra. He is currently the conductor of the Frederick Regional Youth Orchestra Symphonia.
A Doctor of Musical Arts candidate in Conducting at the Peabody Conservatory, Smith was a student of Gustav Meier, Marin Alsop, and Markand Thakar. An enthusiastic advocate for classical music, Jordan was invited to give a TED Talk at TEDxMidatlantic 2017 and is a contributor to Baltimore Magazine.